Get to Know Susanne Bartel and Todd Little
Kanban University Chairman Todd Little spoke with new Kanban University Distinguished Fellow, Susanne Bartel, about her contributions to the Kanban community and thoughts on ten years of Kanban University.
​Then Todd jumped into the interviewee's seat as a Kanban Fellow himself for a conversation with Joey Spooner asking the questions. Watch both Kanban Fellows interviews below.
How have you seen the Kanban community evolve over the last 10 years?
"Kanban was pretty awesome from the start! It was very open and welcoming. I feel over time maybe it matured a bit. It was a bit more nerdy at the beginning with a lot of deep data discussions and metrics. Now you have a lot more marketing, how do we get to people and how can I convince starters or explain things in really simple words. So, I think we definitely moved into the mainstream and also acknowledge the needs of others out there who are often not as nerdy as we are. We need to start at the beginning with them."
Susanne Bartel
Agile and Kanban Coach, flow.hamburg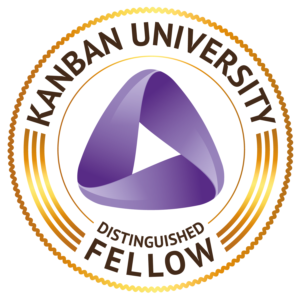 What do you value most about our community at Kanban University?
"I think it's a community of learning and sharing. We've got great people that are really trying to improve and trying great things. That comes out of our core roots. At our Kanban Leadership Retreat, we have a slogan – Explore, Challenge, and Connect. I think it's great to have an environment where so many people have contributed and continue to contribute. I miss our events that we've had to cancel due to Covid but we're coming back! A lot of people are ready to get the band back together and I hope to see a lot of familiar and new faces at our Kanban Global Summit in San Diego in March."
Todd Little
Chairman, Kanban University