Introducing the Kanban Maturity Model
The Kanban Maturity Model (KMM) by Lean Kanban, Inc. is now in beta and will be launched officially in 2018.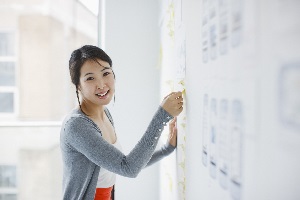 Kanban Maturity Model Lead Appraiser program
Become a Kanban Lead Appraiser
A Kanban Lead Appraiser is qualified to assess the Kanban maturity level of an organization, based on the Kanban Maturity Model. Requirements for the Kanban Lead Appraiser credential are:
• Must be an active Kanban Coaching Professional with Lean Kanban
• Completion of the Kanban Lead Appraiser 2-day training class
• Payment of an annual Kanban Lead Appraiser program membership fee
A KMM Lead Appraiser rates the Kanban maturity of an organization or business unit based on observed practices and outcomes. A KMM certificate is issued to the appraised organization and states the observed maturity level.
The appraiser can also advise as to the steps needed to advance the organization's Kanban maturity further.
The Benefits of the Kanban Maturity Model
• Helps managers and teams understand the system they manage and avoid making wrong decisions with negative effects on projects, services, people, customers and business
• To avoid focusing on compliance to a framework, KMM does not define processes or a methodology, rather, it provides a set of practices at enterprise scale. These guide organizations towards fit-for-purpose products and services
• Allows the objective assessment of the current state of an organization in order to see where challenges and opportunities lie on the path to greater business and organizational agility
• Provides guidelines on the improvement actions to take, creating just enough stress to catalyze improvement without overreaching, risking failure of adoption.
• Helps benchmark organizational agility and fitness-for-purpose
• Improves positioning in the market by appropriately developing capabilities to satisfy and exceed customer expectations
• Align stakeholders and team members around a common understanding of the purpose of an improvement initiative and how to approach it
• Complements other models and methods, such as CMMI and PMBoK, with a systems thinking approach that incorporates an understanding of the psychology and sociology of the workforce.
KMM APPRAISER CHARTER MEMBER OFFER
Students who take a Kanban Coaching Professional Masterclass between September 1, 2017 and March 31, 2018 get a free pass to the 2-day Kanban Lead Appraiser training course (USD $2000 value).
Influences and Integrations
The Kanban Maturity Model is influenced by several management models which have preceded it. The KMM introduces a number of innovations, most notably a focus on business outcomes, and provides a number of mapping and integration points with existing models such as Capability Maturity Model Integration (CMMI), Lean/TPS, Real World Risk Institute model, Mission command/Auftragstaktik. Its 7 maturity levels are influenced by and synthesize concepts from Jerry Weinberg and the CMMI.
KMM Client Program and Costs
Clients requesting an appraisal must pay a certificate fee. There is one certificate per organization or business unit appraised.
Appraisals must be renewed every 3 years or they will expire. There is an appraisal renewal fee.
For more information
Become a Kanban Coaching Professional (KCP)
A Kanban Coaching Professional is eligible to apply to be a Kanban Lead Appraiser. Requirements for the Kanban Coaching Professional credential are:
• Complete the 5-day Kanban Coaching Professional Masterclass
• At least 6 months experience as a Kanban coach (can be before or after taking the KCP class)
• Kanban Management Professional (KMP) status with Lean Kanban University
• Submit an essay about a Kanban initiative that you coached
• Pass a KCP panel interview
• Upon acceptance, pay a one-time program fee