Enterprise Services Planning is a new modular 5-day training curriculum for managing modern businesses involving lots of knowledge work and creative services. If your organization contains people who must think and make decisions for their living then Enterprise Services Planning is the management training framework that will transform your business. While ideally taken together as 5 days of intensive emersion, ESP training is offered in 4 modules.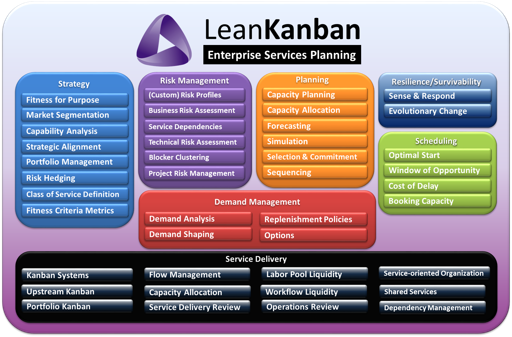 Map of the Enterprise Services Planning Framework
Enterprise Services Planning Module 3: Project & Capacity Planning
Training class for up to 24 attenedees
Duration: 1 day
Pre-requisites: Recommended KMP (Kanban Management Professional). At minimum understanding of work item type definition from the 2nd day of "Getting Started with Kanban" Foundation Level training. Knowledge of the use of Little's Law from ESP Module 2.
A revision exercise to help understand basic work item type and demand analysis is included as an option for this class.
Target Audience
"I am a portfolio manager and I want to know if we have enough capacity to complete our commitments from our strategic plan"
"I am a function manager and I want to know how to allocate capacity across our kanban systems in order to deliver on our commitments and meet expectations"
"I am a service delivery manager and I'd like to know how to make plans and estimates and communicate realistic expectations"
"I am a project manager and I'd like to know how to make plans and estimates and communicate realistic expectations"
Curriculum
Day 4 – Project & Capacity Planning
Demand Analysis

work item type definition
recognizing patterns of demand
classifying demand: value-adding or not; refutable or not; planned or not; speculative or not; disruptive or not

Demand Shaping

using risk management policy to shape demand
studying the risk tradeoffs of demand shaping

Capacity Planning

using Little's Law to align Kanban system capacity allocation with desired go-to-market or strategic outcomes
outcome-driven design (ODD)

Large Project Forecasting

 using

Little's

Law & the s-curve to model large project delivery

Labor Pool Liquidity

understanding the concept of liquidity as a task to skills & experience matching problem

kanban

system design strategies to increase Labor Pool Liquidity
tying career path and staff development to improved Labor Pool Liquidity
exploring the challenges of scaling Labor Pool Liquidity as a management tool

Kanban System Liquidity

understanding Kanban system liquidity as a work to worker matching problem
measuring liquidity
why Kanban system is a good metric
understanding how to measure volatility
using volatility as a method for sampling data sets for lead time distributions and probabilistic forecasts
validating whether the current system performance, continues to reflect the recent past, and use of reference class forecasting is still valid
Learning objectives
Learning to use advanced demand analysis to understand opportunities for improvement and how to design a Kanban system with adequate capacity and risk hedging to cope gracefully with variation in demand over time. This is particularly useful for areas such as IT operations with lots of irrefutable demand and unplanned demand.
Learning how to trade risk for capacity by using policies to shape demand.
Understanding the outcome-driven design (ODD) approach to capacity planning. Planning delivery rates of work items using WIP limits rather than allocating people, resources or units of time.
Learn how to use Little's Law and other probabilistic approaches to make quick, cheap but highly accurate project delivery forecasts.
Who should attend?
Portfolio and program managers, project managers, service delivery managers, risk managers, those responsible for corporate governance, product managers, function/line managers or team leads, management trainers, management coaches, individual contributors working in creative or knowledge work service delivery or project environment, anyone responsible for service delivery to customers, anyone wishing to learn how to scale Kanban implementations beyond a single team or a single service workflow.
Applicability
This class is ideally suited to a single corporate for private delivery on premises. Typical scope should be a medium-sized entity or a product or business unit of a larger entity. The class is most suitable for the private sector but is adaptable to public sector environments.
Sales
Enterprise Services Planning classes are currently offered exclusively through David J. Anderson & Associates, Inc.
For open registration classes please consult our training listings http://anderson.leankanban.com/events/ If you don't see a class listing near you please contact us sales@kanban.university
For private classes please email sales@kanban.university