Enterprise Services Planning is a new modular 5-day training curriculum for managing modern businesses involving lots of knowledge work and creative services. If your organization contains people who must think and make decisions for their living then Enterprise Services Planning is the management training framework that will transform your business. While ideally taken together as 5 days of intensive emersion, ESP training is offered in 4 modules.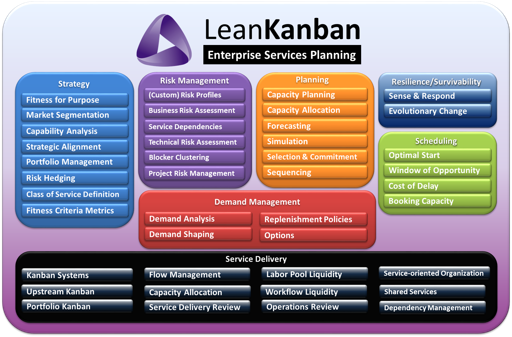 Map of the Enterprise Services Planning Framework
Enterprise Services Planning Module 4: Portfolios, Programs & Dependencies
Training class for up to 24 attendees
Duration: 1 day
Pre-requisites: KMPs (Kanban Management Professional) will find that about 50% of this class repeats Day 2 of "The Kanban Method" class.
Minimum pre-requisites would be "Getting Started with Kanban" (Foundation Level) or completion of ESP Module 2: Enterprise Services. ESP Module 1: Portfolio Management is recommended to be taken together with this module as there is considerable synergy.
Target Audience
"I am a portfolio manager and I want to how we can use Kanban to better manage our portfolio"
"I am a process coach and I want to know how to scale Kanban throughout our business"
"I am a project manager and I want to understand how to do retrospectives with Kanban"
"I am a program manager and I want to understand how to manage dependencies when we are using Kanban in our delivery organization"
Curriculum
Day 5 – Portfolios, Programs & Dependencies
Scaling Kanban

approaches to scaling
bounding unbounded queues

 

Dependencies

between services
integration dependencies

peer-to-peer dependencies
parent-child dependencies

Visualizing Dependencies
Portfolio Kanban
Scaling out across an organization
Feedback Loops to Improve Service Delivery
Conducting Standup Meetings

lower maturity, walk-the-board right to left
higher maturity, larger scale, focus on exceptions

Conducting Service Delivery Reviews
Conducting Operations Reviews
Learning objectives
The primary objective of this class is to learn how to implement Kanban at scale.
Understand advanced visualization for dependencies, programs & portfolios
Understand the feedback mechanisms that allow Kanban to scale and kanban systems to adjust and evolve in response to interdependent demand
Learn how to conduct the important meetings that make Kanban work as an evolutionary approach to creating service delivery that is "fit for purpose"
Who should attend?
Portfolio and program managers, project managers, service delivery managers, risk managers, those responsible for corporate governance, product managers, function/line managers or team leads, management trainers, management coaches, individual contributors working in creative or knowledge work service delivery or project environment, anyone responsible for service delivery to customers, anyone wishing to learn how to scale Kanban implementations beyond a single team or a single service workflow.
Applicability
This class is ideally suited to a single corporate for private delivery on premises. Typical scope should be a medium-sized entity or a product or business unit of a larger entity. The class is most suitable for the private sector but is adaptable to public sector environments.
Sales
Enterprise Services Planning classes are currently offered exclusively through David J. Anderson & Associates, Inc.
For open registration classes please consult our training listings http://anderson.leankanban.com/events/ If you don't see a class listing near you please contact us sales@kanban.university
For private classes please email sales@kanban.university