Enterprise Services Planning is a new modular 5-day training curriculum for managing modern businesses involving lots of knowledge work and creative services. If your organization contains people who must think and make decisions for their living then Enterprise Services Planning is the management training framework that will transform your business. While ideally taken together as 5 days of intensive emersion, ESP training is offered in 4 modules.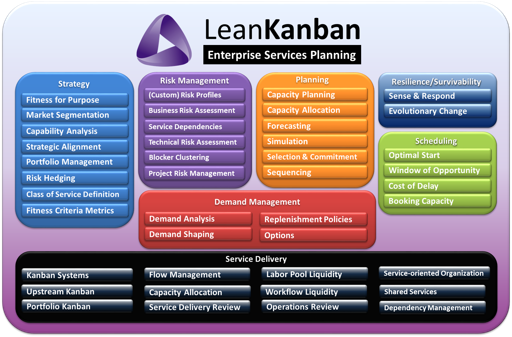 Map of the Enterprise Services Planning Framework
Enterprise Services Planning: Module 1: Portfolio Management
Training class for up to 24 attendees
Duration: 2 days
Pre-requisites: Informational level knowledge of kanban systems and their application to knowledge work and creative services workflows
Target Audience
"I am a business leader who needs to understand the dynamics of our environment in order to make better decisions about what to start, when to start them and the likelihood of a successful and desirable outcome for our business and our customers"
"I am a portfolio manager who needs to make decisions about risk and capacity allocation, decide when to start projects and initiatives and manage our portfolio of concurrent projects, initiatives and activities."
"My job is to manage risk for our organization and advise our leaders and the management team in our PMO"
"I work in the PMO and I want to be more effective in my job. I'm overwhelmed and overburdened and I'm looking for simpler, more powerful ways to make decisions, take actions and work with project stakeholders."
Curriculum
Day 1 – Fitness for Purpose & Cost of Delay
Blizzard Skis case study
Defining Fitness for Purpose
Defining Fitness Criteria Metrics (KPIs)
Classes of Service and alignment with market segments and fitness criteria
Qualitative assessment of Cost of Delay

Market payoff function
Defining cost of delay
Cost of Delay function shapes
Cost of Delay impact assessment
Shelf life
Day 2 – Scheduling, Sequencing, Risk & Strategic Alignment
Scheduling work

optimal start time
window of opportunity

Sequencing
Portfolio Risk
Hedging Risk
Risk Profiling
Pragmatic Philosophy for Risk Management
Aligning Strategy with Capability
Implementing a regular Strategy Review
Learning objectives
Understanding evolutionary improvement of service delivery by applying evolutionary theory to development of fitness criteria metrics (or, key performance indicators (KPIs)) by understanding what creates "fit for purpose" service delivery based on customer needs and expectations.
Understanding use of classes of services to serve specific market segments and sources of demand to enable delivery within expectations and against the defined fitness criteria metrtics
Understanding cost of delay as a concept and knowing how to classify it in a qualitative and pragmatic fashion using taxonomies
Understanding how to apply cost of delay and lead time capability sensitivity analysis for scheduling. Learning how to determine earliest start, latest start and optimal start dates for requested work
Understanding how to use market role risk assessment to sequence work in large batch commitments (such as projects)
Understanding how to assess portfolio risk based on strategic contribution and market lifecycle stage
Understanding how to hedge portfolio risk using capacity allocation in kanban systems
Understanding how to develop a multi-dimensional risk profile for portfolio or project level use and how to visualize it and use the visualization to inform scheduling and option selection/discard decisions
Learn the 12 point pragmatic approach to risk assessment
Understand appropriate alignment of service delivery capability with strategy and risk hedging allocation
Understand the purpose of a regular Strategy Review to assess market segments, fitness criteria, risk hedging policies and alignment of strategy, risk management policy and service delivery capability
As an entire outcome attendees will have learned how to select work for a portfolio, how to align a portfolio of work with company strategy, how to insure that strategy is aligned with capability, how to schedule and sequence work within the portfolio, and how to hedge risk across the portfolio
Who should attend?
Portfolio and program managers, project managers, service delivery managers, risk managers, those responsible for corporate governance, product managers, marketing managers and strategic planners, senior executives and those responsible for strategy, risk policies and strategic decision making, management trainers, management and executive coaches, anyone interested in resilience and survivability of their business and those responsible for service delivery to customers.
Applicability
This class is ideally suited to a single corporate for private delivery on premises. Typical scope should be a medium-sized entity or a product or business unit of a larger entity. The class is most suitable for the private sector but is adaptable to public sector environments.
Sales
Enterprise Services Planning classes are currently offered exclusively through David J. Anderson & Associates, Inc.
For open registration classes please consult our training listings If you don't see a class listing near you please contact our sales department via the link at the bottom of the page
For private classes please contact sales.